Languages and linguistics in the community
Languages and linguistics in the community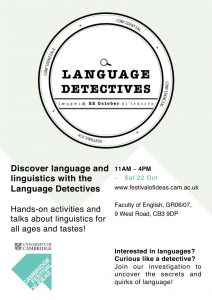 Cambridge Bilingualism Network works with different groups in the community, schools, and nurseries to share current linguistic research about multilingualism, build a network of researchers and practitioners and collaborate for the benefit of speakers of more than one language. Recently, I have run an ESRC IAA funded researcher-practitioner forum series on the connection between multilingualism and wellbeing.
I enjoy talking about why language is fascinating in all sorts of contexts. The Cambridge Festival of Ideas is a feast of events for the mind, where I have given a talk about pragmatics and child development, and organised some Bilingualism Network events. In 2016, with colleagues we ran a day of talks and drop-in activities covering the breadth of linguistics, Language Detectives.
Cam Lang Sci, a blog from graduate students at Cambridge, is where I can sometimes be found talking about my research or current language issues.
The ESRC Educated Brain seminar series brought together neuroscientists, psychologists, teachers and educators, and I contributed to the policy briefs, which are now available.
In the past, I helped organise a residential for the UK Linguistics Olympiad.
Cambridge Bilngualism Network made a mini film to encourage young speakers of community languages to keep up their languages and develop biliteracy, 'Your Languages, Your Future'.